International Dating Site to Meet Foreigners
Marriage Agency and Matchmaker Service
Find Men from all over the World

Free Dating with Men from Abroad
Seeking a Russian or Ukrainian Wife
Dating Sites for Marriage with Foreigners
International dating site to meet foreigners who are seeking marriage with a Russian or Ukrainian woman. Marriage agencies offering a matchmaker service for dating with men from all over the world who are looking for a serious relationship.

Free dating site providing the opportunity to meet single men from abroad who are seeking a serious and faithful wife. Post your profile and begin dating with men from America, Europe, Australia and all over the world.
Our International Dating Site and Matchmaker Service
Works with Honest and Reliable Marriage Agencies
in Belarus, Russia and the Ukraine
Our international dating site and matchmaker service have partnered with honest and reliable marriage agencies in Russia, Belarus and the Ukraine. Every marriage agency owner is an experienced matchmaker and takes pride in introducing their beautiful Russian, Belarusian and Ukrainian women to men from different countries.
With the help of our experienced marriage agency owner and staff, get in touch with foreigners from all over the world who are seeking a Russian, Belarusian or Ukrainian wife to share a serious relationship leading to marriage. Every year, thousands of single Russian women find happiness with their new husband from abroad.
Why do Men from Abroad use Dating Sites to
Meet Women From Russia?
Men from abroad, especially from America, Europe and Australia, face similar difficulties to find a reliable and faithful life partner as women from Russia do. Because many of the single women in their country are not making a priority to find a man to share a serious relationship and create a family, many of these men are seeking their future wife in Russia, Belarus and the Ukraine.
It is not a secret that Russian women are beautiful and still have the family values that foreigners are not able to find in their own country. This combination makes perfect matches and is the main reason why so many marriages involving a foreigner and a Russian woman are celebrated each year.
In case you are wondering if you really CAN form a deep, loving relationship with a man from abroad you have met on an international dating site, let us assure you, you can!
How do we know?
... We are living proof!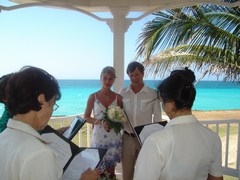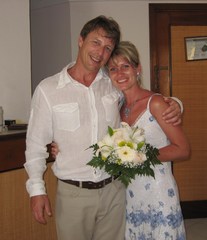 You see, I (Alain) am from Montreal, Canada while my wife is a beautiful Russian woman named Yuliya. Just a few years ago, we were living on separate continents, seeking a life partner without any success.
Some months later, I flew to Russia to meet Yuliya in her hometown of Grodno, Belarus. Though we were nervous about our first "real" meeting, we soon became quite comfortable with each other. By the end of the week, my beautiful Russian woman and I knew we were in love!
Yuliya and I exchanged emails and talked to each other via Skype and our love kept on growing. Soon we were vacationing on a beach in Cuba together!
For our next meeting, Yuliya came to Canada to become familiar with what we hoped would become her future home. She met my family and friends - who were charmed by my beautiful Russian woman - and explored the local schooling options for her young daughter.
Before long, the immigration process was underway and within six months, we were all living together as a new family!
Our story is special... but it ISN`T unique. Any woman with a decent heart who is trying to find a good man to make her husband can have the same success that we enjoy.
All you have to do is take a chance! If you would like to talk to one of these men, create your profile on our international dating site and you may be on the way of finding this wonder husband you are dreaming of!
International Dating Site to Meet Foreigners
Find Men From Abroad

Dating with Men Seeking a Serious Relationship
With Russian and Ukrainian Women

Marriage Agencies and Matchmaker Service
for Dating with Foreigners
International dating site and matchmaker service to meet foreigners seeking a serious relationship with a Russian or Ukrainian woman. Use our reliable marriage agencies to find and meet men from abroad seeking the traditional family values.
Our experienced marriage agency owner and staff will help you to meet men from America, Europe, Australia and all over the world. Post your profile on our website and you may be on the way to get in touch with the special man you have been looking for so long.
Do not wait any longer, thousands of foreigners are family oriented and cannot find a woman to share their values in their own country. Men from abroad know that Russian women often cannot find their prince in their own country as well. Thousands of Russian women find their love with the help of international dating sites each year. Post your profile and begin dating with serious men seeking to share long term relationships!

All our best wishes,

Alain and Yuliya